Have you always wondered what is the best tasting strawberry that you can grow in your backyard? Strawberries are lovely little fruits that are sweet, juicy and a wonderful delight to eat and when growing your own fresh strawberries in the garden the rewards are much greater. Having your own supply of fresh, delicious and organic strawberries is a fulfilling experience for gardeners. Ask any and they would tell you " there is nothing more rewarding than growing your own supply of fresh food. 
Strawberries are known for their bright lipstick red colour and characteristic aroma. This little fruit is usually consumed in large quantities, either fresh or in foods such as jam, juice, pies, ice cream, milkshakes, and chocolates. In other words, strawberries are a perfect treat for your deserts especially if you love baking.
There are a variety of strawberries available for growing in your garden. This fruit is often grouped according to its flowering habits. This has consisted of a division between "June-bearing" strawberries, which bear their fruit in the early summer and "ever-bearing" strawberries, which often bear several crops of fruit throughout the season. One strawberry plant may produce 50 to 60 times or roughly once every three days during its fruiting season.
There are many benefits of growing your own strawberries in your garden. Everyone wants the best tasting strawberry but most of us don't know which type of strawberry that is or how do we begin growing this delicious little fruit the right way?  However, choosing the perfect variety to grow can be tricky but not to worry dear plant lover. Here is a list of the 12 best tasting strawberry which you would love to have bloomed in your garden!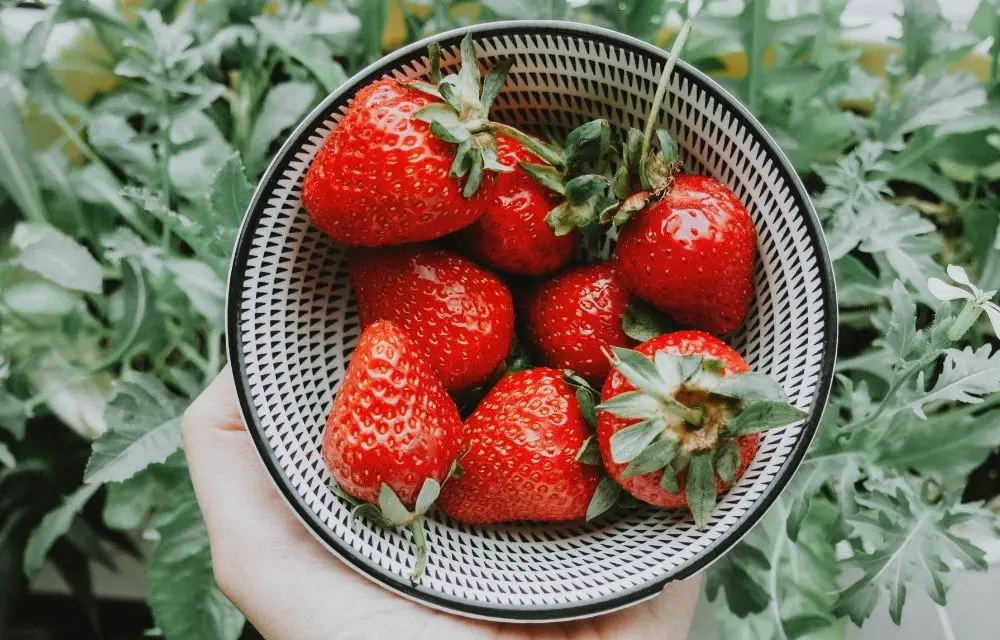 12 Best Tasting Strawberry
The first on our list is the Honeoye Strawberry which is a  plant developed by the Cornell Research Station, Geneva, NY over three decades ago. This variety has unusual winter hardiness and can bloom even in very low temperatures.  Moreover, due to the fact that they can grow in chilly climates, Honeoye strawberry plants are extremely productive which means lots of fruits!
This type of strawberry is very large and very delicious. If you want to start growing Honeoye strawberries, it is an excellent choice for the Northeast and upper Midwest, since the berries taste best when they ripen in moderate conditions. 
The large berries harvest easily and many claims it is the most consistent berry producer which is an important aspect if you are considering growing your strawberries in bulk.
When you purchase your Honeoye Strawberries you will be sent healthy bare-root plants. Not only that, you will receive extra plants! 
You will see growth within 3 days. The most vital part of growing these strawberries is to make sure you have at least 30% sand mixed into the soil.
This is because strawberry plants need three things: 
Any soil but at least 30% sand needs to be added and mixed well. The sand is the most important part and without it they will die: the soil needs to be well draining and 30 percent sand needs to be mixed thoroughly and planted on a mound six inches apart. 

The plant can soak in water for an hour and then plant. Crowns need to be placed above the soil where you see a little root. 
3When planting in towers makes sure you add at least 30% sand mixed into the soil really well. Then make sure the drain whole doesn't get clogged by adding stones or a screen mess of some sort then put mixed soil on top. 
Pack each layer tightly, on all the holes make sure to add more dirt to have a cone shape that is higher than the whole. When placing the roots you can cut them to 2.5 inches in length and put them into the cones you created. Make sure you see a little root when placing.
Be patient with your new plants and watch them provide you with an abundance of delicious strawberries once your plant is ready to bear fruit.
Next up on our list is Sweet Charlie, even from her name you can tell that this variety is going to be delicious. This strawberry is one of the most favoured strawberries in the United States.
Sweet Charlie strawberry plants are small and compact making picking them relatively easy. The Sweet Charlie strawberries are medium in size. Sweet Charlie strawberry plants are June-bearers, but an excellent choice for use as a short-day variety in warmer climates. 
They have a relatively low acid level and the best time to harvest Sweet Charlie strawberries is after the very tip of the strawberry has reddened. This variety is vigorous produce and is a perfect choice for home gardeners. 
The Sweet Charlie is a firm little plant that can tolerate gentle shipping over short distances. This variety produces deep red strawberries and the plant's leaves are medium to dark green which is slightly cupped and semi-glossy. 
Moreover, Sweet Charlie strawberry plants are vigorous once established. They attract butterflies and bees, but birds will also visit once the strawberries start ripening. To prevent birds from eating your berries you can get a simple bird netting to palace around your crops.
Sweet Charlie strawberry plants love growing under direct sunlight and need moist, well-drained soil that is rich in organic matter. This variety does best growing in soil with a pH between 5.6 and 6.6. In addition during seasons when rainfall is not adequate, supplemental watering will be required for your plant to grow well.
This choice is perfect for home gardens, excellent for eating fresh and provides a high yield!
This is the classic strawberry variety which is big, bright red and juicy. This is another great choice for home gardeners as the Earliglow strawberry is easy to plant and also produces a lot of fruits.
Earliglow strawberry is a popular variety, often used at Pick Your Own Strawberry farms and commonly chosen in home gardens. The berries you get from this variety are large, red, juicy, and tasty. While these would be reasons enough to grow Earliglow, there are other reasons too, including high yield and ease of care and maintenance. 
Moreover, the extensive runners that these plants produce will give you an even larger harvest next year. With Earliglow, as the name suggests, you get an earlier harvest. Your plants will start producing berries in June in zones 4 through 8. 
You can expect to get a big yield over the course of about three weeks. Additionally, you can get a later season harvest if you plant in early fall. 
Earliglow strawberry is also resistant to several diseases, including root rot, verticillium wilt, and red stele. This means this variety is definitely a strong one. 
To grow healthy and happy strawberries your plants will require full sun and regular watering. This variety grows 12 inches tall and wide
Earliglows do well in a variety of settings. These strawberries can be planted in beds, rows, raised beds, or as a border. If your space is limited, this variety will also do well in containers. Feed your plant with a balanced, general fertilizer in spring and again at mid-season. 
Start growing your red juicy Earliglow Strawberries today and be sure to get an abundance of delicious rewards after all your care and effort in the garden!
Ozark Beauty strawberries were developed in Arkansas and have proven to be one of the most popular and adaptable of the everbearing strawberry varieties. This strawberry variety has become one of the best-selling of all commercially sold everbearing strawberries in large part to its overall robustness and adaptability.
When you purchase your Ozark Beauty Strawberries you will receive healthy bare root plants. You will be able to observe your plants' growth within 3 days.
The most important part of growing these plants is to ensure you have at least 30% of sand mixed into the soil. Without the mixture of sand, your strawberry plant will die.
Similar to all strawberries, Ozark Beauty strawberry plants prefer full sun, about an inch of water per week, and slightly acidic soil. While a pH of 5.3 to 6.5 is ideal for this variety, they will still do well in soil with a pH anywhere from 5.0 to 7.0.
At their full, mature height, they will be between 8 inches and 1 foot tall and spread to about a foot.
Jewel strawberries are exactly what you would imagine when you think of this variety of fruit. Firm, deeply red, and juicy; the berries adapt to a host of uses. 
They are on the list of the top 10 strawberries. This plant is resistant to the more common strawberry problems and self-pollinates, with fruit that has a delicious scent and flavour. 
Jewel strawberry plants are a hybrid, which is recommended for commercial, home gardens and you-pick operations. The plant is low growing, hugging the ground and spreading by stolon.
Each Jewel Strawberry plant is 12 inches (31 cm.) tall with a similar spread. After a year from planting, you can harvest bright red, wedge-shaped fruits. The berries are especially good for freezing but also lend themselves well to fresh fruit concoctions.
Moreover, Jewel is also an adaptable variety that needs very little supplemental care which means it is easy to grow!
Jewel is a mid-season variety that starts to ripen in June. The berries are large and the plant produces plenty of sweet fruit.
Mara Des Bois Strawberries are the most fragrant with a lovely sweet flavour. Chefs and bakers often seek this rare strawberry for its delicious flavour and fragrance. 
Mara Des Bois variety is day-neutral and is easier to grow and less sensitive to the warm summer temperatures. Plant them in spring and begin seeing your fruits bloom from June. This variety bears fruits 12-14 weeks after planting.
Purchase yours today and it will arrive in its best quality ready for you to start growing your strawberry plants. 
This is definitely a unique and interesting strawberry variety that you would love to have in your garden especially if you plan on creating some amazing dishes with your freshly grown Mara Des Bois Strawberries.
The Alpine White Soul is an extremely unique strawberry that is also quite rare. This variety is white in colour and has bright red seeds which is quite a contrast from the usual red strawberries that we would have in mind.
White Soul reaches only about 6 inches in height, yields small white to cream-coloured, aromatic fruits over a very long season. The unusual flavour blends well with mesclun mixes and baby greens. White fruits need protection from the direct sun.
This variety is best grown indoors first before moving them outdoors. They need moderate watering and a minimum of 6 hours of exposure to sunlight.
Chandler strawberries produce a large delicious berry that is sure to enlighten your taste buds!  
This variety has become a widely famous species because of its intense strawberry flavour.  Chandler offers a distinct flavour and sweetness, unlike other varieties that have traded taste for greater disease resistance or increased yields. 
The interior of this strawberry features red colouring and plenty of juice. If you are not a fan of the dry and white centres found in other strawberries, Chandler strawberries could easily become your new favourite.
Chandler strawberries are very large and firm berries that produce early-season to mid-season.  The strawberries vary from being long and wedge-shaped to large and conical.  They are a brilliant red colour, glossy, and have an exceptional flavour.
Chandler strawberries are good for eating fresh, preserves and wonderful pies. There is nothing more comforting than a delicious strawberry pie made with fresh homegrown strawberries or that favourite pound cake recipe topped off with some fresh sliced strawberries from your very own garden.
Plant your Chandler Strawberries in October and you will be picking delicious berries the following Spring!
Allstar Strawberry (Fragaria) is a berry-producing machine. This strawberry hybrid called the All Star Strawberry produces high yields of large, juicy red fruit in early to mid-summer.
Strawberries also are also an attractive plant to have in your garden, with showy white flowers with yellow centres that appear before the fruit forms. Even better, Allstar is a perennial in zones 4 through 9, so it will remain partly green through winter and come back in spring to bear fruit again.
All star Strawberry is known as a June Bearer variety because the fruit matures in a few weeks. The plant is bred to resist diseases common to strawberries such as verticillium wilt.
This is an easy plant to grow in your garden. Grows about 8-12 Inches Tall and is 12 Inches Wide. Ensure your All-Star Strawberry plant is under direct sunlight.
Place your plant in well-draining soil so the crown is just above the soil level. If you are growing a number of strawberry plants, space them about 6 to 18 inches apart. 
Plant your strawberry as soon as the soil is workable in spring to give the plant time to establish before summer arrives. The strawberries will send out runners as days lengthen; cut those off in the first year of plant growth to send more energy and nutrients to producing fruit.
Water your Allstar Strawberries regularly or at least weekly, depending on the weather. 
The plants need moisture to fully form plump and juicy berries, so add a layer of mulch around the plants which will slow evaporation where your plant will have more chances of not drying up.
Mignonette Strawberry is a French species of strawberry that has smaller berries and a distinct flavour and aroma. Excellent edging, border or container variety. Grow as an annual or perennial. 
Mignonette Strawberries grow best in a sunny area with rich, moist, well-drained soil containing plenty of organic matter.
Mignonette is said to be one of the tastiest red alpine varieties. Although not as productive as some other reds, the long conical shaped fruit has an aroma and taste, unlike anything you've ever experienced. 
This species is also not as hardy as some of the other selections. This will be a wonderful addition to your garden especially if you enjoy unique flavours in your kitchen.
Yes, this is a purple strawberry! 
Purple wonder is a colour and flavour breakthrough among the strawberry family. Incredible purple fruits are extra sweet and delicious. 
These are June-bearing plants that are tidy and attractive, with beautiful fully-lobed, bright green leaves. Expect an abundance of fresh pickings from your Purple Wonder Strawberry plants in summer.
This is truly a one-of-a-kind strawberry that you would love to have in your garden.
If you are concerned about genetically modified foods (unnaturally altered genome). Fortunately, Purple Wonder strawberries are NOT a genetically modified organism (GMO). This variety has been bred by natural means by the small fruits breeding program at Cornell University.
These strawberries will most definitely stand out from the usual red or even white strawberries that we often come across.
Toscana Strawberries have bright shocking pink flowers that continue to produce juicy, deep red strawberries from summer until the first frost. This plant spreads gently by runners in borders or herb beds or spills beautifully from a container.
Toscana Strawberries are also known as the "edible ornamental" plant. The strawberries produced by this species are sweet and flavourful. 
Toscana is a wonderful addition to your garden and if you love having strawberries throughout the year this plant is a great fit for you because it produces strawberries all year long. That is why another name for Toscana is the Everbearing Strawberry.
This species grows up to 10 to 12 inches tall and 12 to 16 inches wide. Loves direct sunlight and is best grown in fertile, moist and well-drained soils.
Provide your plant with sufficient fertilizer and water for it to thrive and continue showering you with lovely strawberries throughout the seasons.

Growing Strawberries Care Guide
Soil
Soil is an important aspect of growing healthy and juicy strawberries. They prefer slightly acidic soil with a pH between 5.5 and 6.8. If soils in your area are naturally alkaline, it is best to grow strawberries in half-barrels or other large containers filled with premium quality potting soil, like aged compost-enriched Miracle-Gro® Performance Organics® All-Purpose Container Mix. 
Strawberries may also sulk in heavy clay, which should be generously amended with composted leaves, fully rotted sawdust, or Miracle-Gro® Performance Organics® All-Purpose In-Ground Soil—like the Container Mix, it contains high-quality aged compost—before planting strawberries. After mixing in 4 inches or more of compost, rake clay soil into raised mounds to further improve drainage. 
If your soil is sandy, simply cultivate to remove weeds, and mix in a 1-inch layer of rich compost or rotted manure. Many varieties of strawberries eagerly produce offspring, so it is best to space them 18 inches apart. 
Make sure to set the plants so that their roots are well covered with soil but the central growing bud, or crown, is exposed to light and fresh air. This is very important: If you bury the crown, the plant could easily rot.
Light
Most strawberries prefer direct sunlight throughout the day. With a minimum of 6 hours per day.
When growing inside, you will need to decide whether you will be using artificial lighting or natural sunlight. If you make the decision and choose to use natural sunlight inside, you need to make sure that your plants are getting enough sunlight to grow effectively and to the desired taste and size that you want. 
Another choice that is available are LED lights. These are good because they can be placed closer to the plants as they do not emit as much heat as traditional lights. 
They emit approximately at a temperature of between 104 and 140 Fahrenheit (40 and 60 degrees celsius). Since they are so close, less light is wasted. You can even use smaller LED bulbs around the leaves without drying out your plants.
Therefore, for growing strawberries, it is possible to grow them either indoors or outdoors.
Watering
Strawberry plants require regular water to thrive, especially during the fruit-bearing season, when they need an average of 1-2 inches of water daily. The best method to water your lovely strawberries is to use a drip or soaker hose placed at least two inches away from the plant. 
Strawberry plant roots are shallow, therefore keep the soil moist but not soggy. This is because, if the soil is high in clay, be especially careful not to over-water. Use your sprinkler irrigation carefully. 
During the fruiting season, fruit is susceptible to rot if plants do not dry out in between watering. For this reason, avoid watering in the early evening. When using strawberry pots, check the openings regularly to ensure the soil doesn't get too dry.
Temperature
The best temperature for garden strawberries is between 60 degrees and 80 degrees Fahrenheit. However, the plants can tolerate temperatures as low as 22 degrees Fahrenheit, as long as the plant is protected from frost.
Humidity
High humidity can encourage the development and spread of powdery mildew, so provide plenty of air circulation is important  for your plants
Fertiliser
Start with compost-rich, organic soil, and apply a balanced fertilizer (10-10-10) at planting time, at the rate of one pound per 100 square feet. Fertilize again after the renovation of June-bearers or after the second harvest of day-neutrals and everbearing types.
Be careful not to over-fertilize, which leads to excessive leaf growth and poor flowering. Additionally, don't fertilize strawberries late in the season in colder climates, as you want to prevent new growth that will be damaged by frost.
Toxicity
The toxicity of your soil will determine how natural and organic your fruits will be. Therefore, avoid using soil that is untested as well as avoids using chemical-based pesticides and fertilizer.
Using organic soils, fertilizer and pesticides will ensure that your strawberries are not only looking healthy and beautiful but will also be beneficial when consumed.
Pruning
Strawberry plants do not require heavy pruning as do other berry bushes, they do need light maintenance through the summer and at the end of the growing season. Strawberry plants put out runners with plantlets at the end that take root when they touch the soil. 
If you want a berry patch, then let the runners grow. However, the new plants take energy away from the adult bush, which results in smaller, less desirable fruit. Identify the runners. They are long stems without leaves and a small plant at the end.
Cut the runners down to the ground with pruning shears, or by pinching them off with your fingers, being careful not to damage the strawberry bush or roots. Discard the runners and small plants away from the strawberry bed, preferably in your compost heap.
Propagation and Growth
There are three main ways to propagate strawberry plants. The plants can be divided and transplanted once multiple crowns have been grown (or division of rhizomes), new plants can be grown from strawberry seeds, or the runners that strawberry plants put out can be controlled, guided, and caused to root where clone plants can be utilized most efficiently.
Moreover, for a new gardener, strawberry propagation by runners is usually the easiest and most successful means of acquiring new plants from existing ones. But, don't hesitate to try the others if up to the challenge.
Repotting
If you have planted your strawberries in a container it's best to repot your strawberries every winter so that they get refreshed nutrients. Just take them out, shake off the soil and put some fresh compost in and repot. 
This will ensure that your plant continues to fruit well in the new season. Even replacing half your plant's soil is better than replacing none.
Plant Diseases
Strawberries are prone to a variety of diseases that can affect the fruit, flowers, leaves, roots, and crowns of strawberry plants, and sometimes cause the collapse of the whole plant. While many of the problems caused by bacteria, fungi, moulds, and viruses can be treated when symptoms are observed, some of the most serious strawberry plant diseases cannot be treated after the plants are in the ground.
However, there are many options available that are organic which will provide an aid for your ill plant. 
Common Issues with Growing Strawberries
Some of the most common problems growing strawberry plants are browning of leaves, yellowing, plant death, stunted growth, leggy-ness, leaf spot, and leaf curling, which can all be fixed through better lighting and watering, careful use of pesticides or fungicides, and using resistant species of strawberries.
Although these issues may seem challenging, they can actually be solved with easy solutions such as better lighting or watering and the application of pesticides or fungicides.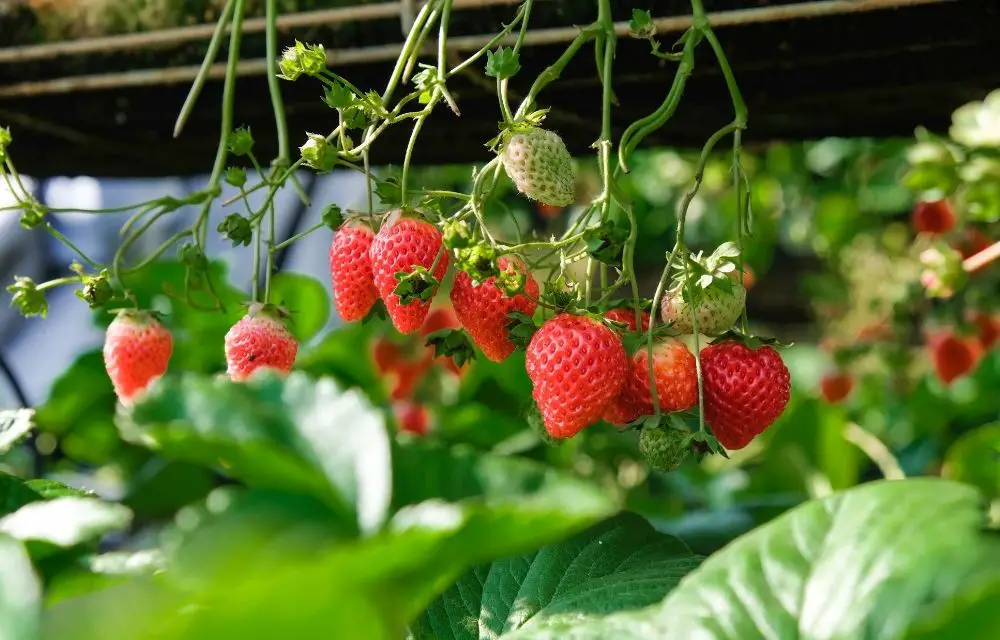 Best Tasting Strawberry to Grow Frequently Asked Questions
Which are the sweetest strawberries?
The Alpine Strawberry is one of the sweetest strawberries you can grow in your garden.
How can I make my strawberries taste better?
If your strawberries aren't sweet, look at your current soil conditions. Strawberries perform best in well-drained, fertile, and slightly acidic soils. In fact, these plants tend to yield more and are sweeter when grown in compost-enriched, sandy soil.
Ensuring that your plant is receiving all of its needs accurately will make sure that your strawberries are sweet.juice and delicious when they are ready to harvest.
Why do British strawberries taste better?
British berry farmers are going against the grain to produce slower growing, sweeter strawberries that lack the uniformity of their mass-produced European cousins. This is why they usually taste better.
Where are the best strawberries from?
The top fresh-market-strawberry-producing states are California and Florida by far, with North Carolina, Wisconsin, and Pennsylvania also in the top five states.
What's the taste of strawberry?
Strawberries are juicy, sweet with a slightly sour taste. The aroma from a strawberry is like sweet caramel, and the others present provide a fruity scent.
Although different species of strawberries vary, the general taste of strawberries is sweet.
Why does strawberry flavor not taste like strawberries?
This is because flavourings are usually artificially made and getting it to taste exactly the same has not yet been done. But then again, nothing beats the fresh juicy and sweet strawberry freshly plucked from your garden.
Conclusion
To conclude, strawberries are a wonderful addition to your garden especially if you love growing your own source of food that is not only healthy, fresh and organic but also deliciously sweet and flavourful! In other words, the best tasting strawberry will no longer be in the supermarkets but in your own garden.
In general, strawberry plants need direct sunlight, moderate watering and the right soil mixture to grow well. We wish you all the best in your new adventure journeying with your new strawberry plants and we hope your harvest will be the best tasting strawberry you have ever tasted!
Related Articles for Plant Lovers: