Having the best oscillating sprinkler in your garden will enhance your plant watering experience. Choosing the best oscillating sprinkler will allow for a smooth, simple, quick, and efficient watering process that will ensure your plants are receiving all the water they need even when you are unable to water your plants manually. 
There are also a number of things you should consider before purchasing an oscillating sprinkler such as the lawn size, the adjustability of the spray pattern, water pressure demands, and the construction of the sprinkler.
Now, without further ado let's get into the nominees of the best oscillating sprinkler 2021!
What Is an Oscillating Sprinkler?
An oscillating sprinkler sprays water out in a fan-like pattern that can cover large areas with every pass. The main advantage of this sprinkler is the way the water is pushed up and then down, very similar to rain.
A key point to note is the placement of your sprinklers in your lawn or garden. Find a perfect spot where you will get the most efficiency out of them.
Take your time by adjusting the sprinkler accordingly until your plants are thoroughly satisfied. If you notice your sidewalk is getting more water than your yard, move the sprinkler heads little by little until you find the correct placement for your yard.
All yards are different and need unique watering techniques and sprinkler options, so do some research on your lawn to figure out which is best for you. You may also get someone who is more experienced with sprinklers to give you some pointers.
Taking the time and patience to really research and plan out the types of sprinklers you will be getting and the placement in your lawn will allow you to get the best usage of your best oscillating lawn sprinklers.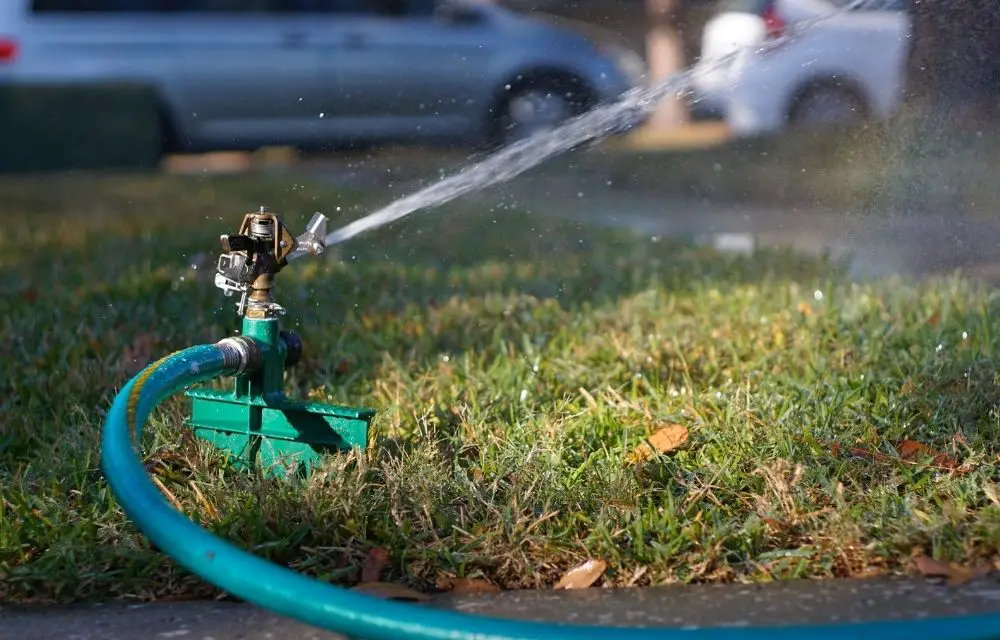 8 Best Oscillating Sprinkler
This product is on top of the list because it is a solid and dependable sprinkler. Additionally. It is completely customizable with coverage patterns.
It also has a wide range of coverage which is great if you have a big lawn or garden. The Aqua Joe has a superior range control which covers up to 3600 sq ft.
This is also a durable product which is leak resistant. So, you will be able to water your plant without having to worry about leaks.
Aqua Joe is also clog resistant as it is equipped with 16-clog nozzles. It is also compatible with a standard garden hose connection which is convenient for your usage.
The TURBO-DRIVE MOTOR in this product is a sealed, turbo gear-driven unit for reliable performance, and an extra-large indestructible solid-metal base for added stability and durability in the yard and garden.
Keep your garden green and your lawn lush and beautiful with the Indestructible Metal Base Oscillating Sprinkler from Aqua Joe. No more wasted water or overspray – put the H2O precisely where you want it.
Control range with 16 clog-resistant nozzles for superior coverage up to 3600 sq ft. Sealed, turbo gear-driven unit for reliable performance, and an extra-large indestructible solid-metal base for added stability and durability in the yard and garden. 
It really can't get any better than this! The Aqua Joe is definitely one to consider as the best oscillating sprinkler.
Having an Aqua Joe in your garden will definitely create a positive and fun watering experience for you and your plants.
With 20 Precision rubber nozzles provide maximum coverage of a large lawn or garden up to 4, 500 sq. Ft and a twin touch adjustment controls the width of the watering pattern to cover the whole yard or a narrow flower bed
Infinity turbo drive provides a smooth operation for even watering and extended life.
You will be able to quickly connect and disconnect the sprinkler with an included Quick Connect Product Adapter (Requires Quick Connect Product End Connector sold separately).
Melnor introduced the first successful oscillating sprinkler in 1946, and the company continues to build on that quality with sprinklers that cover a wide variety of watering needs.
There are also three dimensions of adjustability. You can adjust the range, width and control the zoom. This allows for a personalized sprinkler to perfect your watering needs.
An easy and efficient product that will work like magic in your garden to ensure that all your plants are never thirsty during the summer heat.
Sprays up to 90 feet in diameter, covering 6,360 square feet when set to a full circle which means a large coverage area when watering plants.
The heavy duty  brass construction can withstand high water pressures and severe weather conditions without the worry of breaking, rusting, or failing. This also provides for a long lasting and dependable product.
You can even adjust and personalise your coverage needs. Easily adjust spray coverage from a partial section to full 360° watering.
Moreover, there is also a customizable setting for gardeners. Use the deflector shield and diffuser screw to alter the stream and change the spray distance radius.
Don't worry about instability because this product has a strong metal tripod as its base. Metal, weighted tripod resists tipping and extends up to 48 inches to allow for adjustments as plants grow.
It also has an anti backsplash which improves the sprinklers ability to spray water in a consistent pattern and in the desired direction.
A flow-through design, resistant to clogs and ideal for secondary water and an easy connection with a gooseneck that makes it super simple to connect to your hose.
Next up on the list is the Eden 94113  which has 16 plastic nozzles to provide maximum coverage of large lawns or gardens.
Easy-to-use sliding tab range controls make coverage adjustments simple for easy and quick usage.
Moreover, there is also a built-in cleaning tool for nozzles which will ensure your sprinkler is alway clean and hygienic.
You are also able to continuously adjust watering patterns for your plants specified needs. Your plants will be grateful for the perfect watering each time.
Lastly, a quick connect starter set fits all standard U.S. garden hoses. The secure twist-and-lock mechanism prevents accidental disconnection, water stop feature allows tool changes with the water on.
This sprinkler is also a patented dirt resistant sealed turbo drive which has a leak proof connector and a weighted base that will help stabilize the unit.
The Gruntek is a unique and reliable product.  It is a rectangular lawn bar sprinkler for medium and large garden and lawn areas up to 62m²/4973ft².
It has adjustable nozzles for your personalized benefits. With 20 nozzles for easy adjustment + nozzle cleaning plug provided.
Moreover it has an easy connection thanks to the universal connector system for European and American connectors. To connect the sprinkler to american hoses, simply unscrew the European click-adapter.
Perfect for larger lawn and plant areas  as its blast width is up to 17 meters.
Don't worry if your product isn't as promised because you will get your money back in 90 days! This means you can purchase this product without having to worry about it not meeting your watering expectations.
If you need more information, GRÜNTEK is a German gardening brand that is committed to offer high-performance and quality products.
GRÜNTEK's PRIMAVERA Series 51 sprinkler is a rectangular sprinkler specially designed for both medium- and large-sized rectangular lawns with an area of up to 4973 ft². It is suitable for extensive and uniform irrigation of both flower and plant lawns as well as grasslands and terraces.
Gruntek also states that "The best gardening tools should not be expensive, but they have to be modern, high-quality, comfortable, and created with soul. We use our tools in our own gardens every day, so that they are just as everyone would like them to be – for enthusiasts by enthusiasts."
Thanks to the patented turbo engine transmission, the GRÜNTEK PRIMAVERA lawn sprinkler has an operating time of up to 1600 hours. The UV-resistant coating ensures high-quality protection and longevity.
The Brizer is a gentle flow sprinkler with maximum coverage. Packed with 15 Nozzles for maximum coverage, the dial easily allows you to set the spray area: left, right and narrow width or full width. The Brizer R2120 provides a gentle shower for delicate plants in garden soil, or an even distribution over a wide yard. This sprinkler for the yard will be a reliable addition for your garden and home.
Your grass will always be green with Brizer as the grass in your yard will be happy, healthy, and hydrated thanks to Brizer's Oscillating Sprinkler. The Brizer watering sprinkler is made of a lightweight design that's also durable. 
This allows you to adjust the angle of the water being projected so you can get the water where your lawn needs it most. Add the Brizer sprinkler garden appliance to your yard maintenance set for a lively lawn.
This product is also extremely simple to use. Simply position the Brizer sprinkler system in the middle of your lawn or yard and adjust oscillation. Attach your garden hose to the connecting adapter and turn on the faucet. 
This adapter will connect to any standard garden hose, whether flexible or metal hose, we've got you covered. Your sprinkler is now ready to irrigate 2,800 square feet of grass and flowers. Compared to other sprinklers for yard the Brizer's water sprinkler covers up to an extra 800 square feet more.
Additionally you can easily clean this product as it has a metal sieve located in the hose adapter, allowing a seamless connection without hassle. This added sieve filters out dirt that may clog the nozzles.
If the nozzles do get clogged, the sprinkler comes with a built-in nozzle cleaner at the end of the chassis to clear out clogged nozzles. Simply unscrew the plastic pick and insert into the nozzles to break up any extra debris inside.
Precise, even watering of lawns, beds and hedges. In the modern Gardena Sprinkler range, there is a sprinkler for almost every garden size and shape.
Circular Sprinklers allow for quiet and easy-to-handle sprinklers for small to large areas in the garden. With multiple settings.
Additionally, 0scillating Sprinklers for areas of 90 to 350 m². For even, puddle-free watering of square and rectangular areas. This creates an efficient and easy watering experience in your garden.
A wide range sprinkler allows coverages for areas up to 490 m² with a fine adjustment to sector or full circle distribution.
Last but not least is the Rocky Mountain Goods Turbo Oscillating Sprinkler which is a heavy duty rustproof aluminum frame yard sprinkler.
Easy adjust width and pattern control knobs for custom lawn coverage and a built in cleaning jet pin with 3,600 square feet of consistent watering coverage for spot or total lawn coverage.
You also get a lifetime warranty with this product. That's how good it is!
Get a product that you can depend on for ensuring your grass is always green and your flowers are always blooming.

How To Use an Oscillating Sprinkler?
Buying the best oscillating sprinkler is one thing, but using it is another. But do not worry as I will be covering that bit as well.
Before using an oscillating sprinkler, understanding how to set oscillating sprinkler is essential.
So how does an oscillating sprinkler work? Well, first you'd need to attach the hose to a connector. Usually, there will be a knob that lets you pick the spray pattern. This would be full, center, left, or right.
When connected, there will be a mechanism in place in which the arm gets pushed and pulled by a cam. This cam rotates slowly, enabling the arm to oscillate. Within this arm, is a hollow tube with holes on it. 
Water flows into the device and out from those holes and there you go! You've got yourself a functioning oscillating sprinkler.
How to adjust oscillating sprinkler
When adjusting the oscillating sprinkler, remember to first set your spray pattern. You may choose from the options available depending on the specific oscillating sprinkler.
If you're watering to the left side of the sprinkler, set it at the left and do so accordingly for the right side as well. Alternatively, you can set it to full if you wish to cover a wider radius of the ground. Setting the lever at the center position allows for watering single strips.
Remember to not overwater and to turn it off when not in use. Make small, incremental adjustments on dual ring sprinklers to achieve a specific path of water.
Benefits of Using an Oscillating Sprinkler
Apart from oscillating sprinklers appearing fancier, they sure do come with a lot of perks.
First off, you would be conserving water. During summer, the climate can get pretty hot. This would mean more water is required for the plants. Using an oscillating sprinkler can definitely allow you to use water more efficiently.
Take advantage of the oscillating sprinkler's automated system for a more self-sustaining quality for your lawn. 
Alternatively, you can also adjust your oscillating sprinkler to water other areas of your garden. Wherever you need watering done! Watering methods can even be adjusted according to size, type, and shape. 
Using an oscillating sprinkler would definitely be the first step you can take to care of your lawn not only during the summer season but for the long run as well. By conserving and using water efficiently, you'd also be doing the planet a favor. 
No need to worry about storage as these devices are usually kept at a spot. No more tangling rubber hoses, am I right? Having an oscillating sprinkler is definitely something to consider. 
Also, you'd get to brag about it.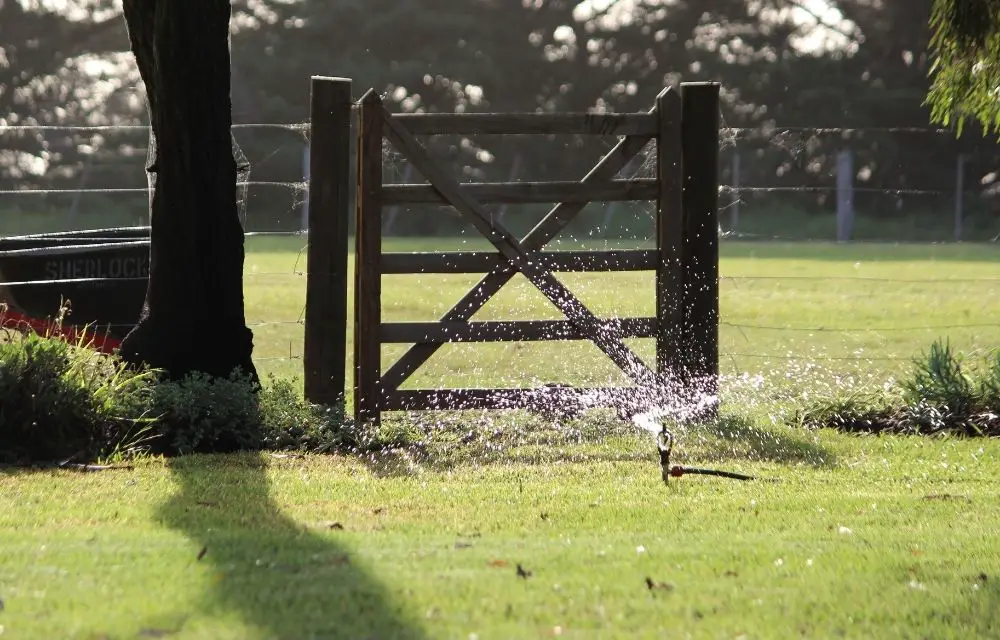 Best Oscillating Sprinkler Frequently Asked Questions
How long to water lawn with oscillating sprinkler
The answer to this depends on the size of your lawn and the output levels of water your oscillating sprinkler has. Use an empty can and place it within the radius of the oscillating sprinkler and leave it on for about 15 minutes to measure how much water is collected during that time. 
Multiply this value by 4 to have a better prediction of the oscillating sprinkler's hourly output. Use this to formulate how much water your lawn would need in a day. Aim to have at least 1-2 inches of water per week. 
Who makes the best oscillating sprinklers?
Aqua Joe, Melnor, and Eden are some of the most sought-after brands of oscillating sprinklers and they are all available online today.
How do I choose an oscillating sprinkler?
Research the brands that work and read oscillating sprinkler reviews. Numbers do not lie. These factors would set a good foundation to build on when you're picking the best oscillating lawn sprinklers to bring home.
Do oscillating sprinklers work?
Yes, they do. Be sure to keep in mind that you get what you pay for and following a manual can definitely do no harm.
What is the best kind of sprinkler?
There are many kinds of sprinklers to choose from with each of them carrying a distinct perk. Know your lawn and choose the one that is most appropriate and beneficial to your lawn.
What is the most efficient sprinkler?
The Melnor has been known to provide a fair trade on quality, value, and features. However, efficiency depends greatly on how you choose to use it.
How many minutes should you water your lawn?
20 minutes at a time seems to be adequate. Aim for at least 3 times a week and your lawn will thank you.
Conclusion
I think it is safe to say that you're sold on the idea of owning an oscillating sprinkler system. I mean why not, right?
Having an oscillating sprinkler is not only much cooler than the typical garden hose, but it also helps you keep your yard well-maintained while reducing your workload as well.
As I would say before buying any product in the market, remember to check for the materials used in the manufacturing of the oscillating sprinkler and maybe have an eye out for the ones with good after-sale services.
Remember that every oscillating sprinkler can vary slightly in use, so keep the manual close to having a good flow. No pun intended. 
Also, if you enjoyed this article, why not have a look at the related ones? I'm sure they're worth your time.
Related Articles: