A moss pole is a helpful and simple tool used to teach plants to grow upward instead of horizontally. Using moss poles you can sculpt your plants to grow how you want them to. Some creative designers even take this to another level by creating art using a moss pole by how they teach their plants to grow. 
Some plants favor growing on a moss pole much more in comparison to others. The plants that benefit most from moss poles are hanging plants, vines, or climbing plants. Such as moss pole for  Monstera, Pothos or Philodendron.
Originally in jungles or other tropical places your hanging or climbing house plants would grow against other solid structures such as big trees or rocks. Your plant relies on these solid structures to give them an easy and stable place for growth and survival.
Using a moss pole for such plants allows your plant to have the solid structure which it needs which will promote its growth as you will be providing to your plant an ideal environment for its best potential growth. Allowing your plants to have their most natural and comfortable setting always ends up in your plant thriving in abundance.
Moss poles for plants allow for root attachment which strengthens your plant which makes for a more attractive growth habit This means stronger and healthy stems and even bigger leaves. Additionally, the moss is absorptive. This means keeping your moss pole moist will allow long vines another source of water when they're fully attached to the support.
What Is a Moss Pole?
If you have never heard of a moss pole before it's basically a stick or even a pipe wrapped up with coconut husk or moss such as sphagnum moss. Others also make their moss poles with sturdy bamboo or other rot-resistant stakes.
How to Make a Moss Pole 
Steps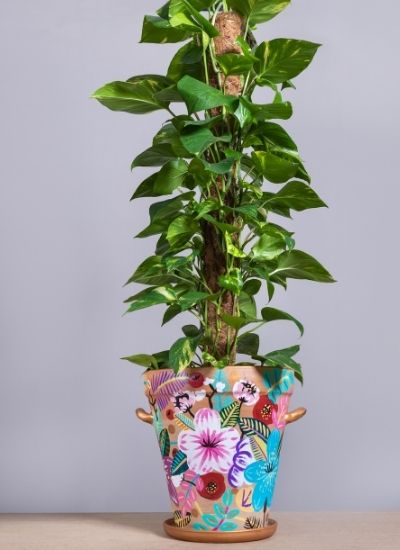 Making your very own moss pole is extremely easy and does not take long. Making your own moss pole can also be much cheaper in comparison to purchasing them. 
Moss pole diy project can be a fun and a more economically friendly option if you have many climbing plants.
Here is everything you need to know to make your premium quality moss pole at home:
Prep Time : 5 minutes
Active Time: 30 minutes
Total Time: 35 minutes
Materials:
1/2″ 19 gauge PVC coated hardware mesh (either 2 ft x 5 ft, 3 ft x 5 ft, or any other size that you can find.)

Vigoro 100 ft. Plastic Coated Wire Twist with Cutter

Sphagnum Moss

Optional: Vigoro Plastic Coated Stakes (4 ft or 6 ft)
Tools:
Pair of scissors, wire cutters or pruning shears.
Make your Moss Pole with 7 Simple Steps:
Step 1: Soak your sphagnum moss in water
Step 2: Bend the hardware mesh into a cylinder
Step 3: Cut the hardware mesh
Step 4: Form the hardware mesh into an open cylinder
Step 5: Fill the cylinder with pre-moistened sphagnum moss
Step 6: Stitch up the cylinder with plastic-coated wire twist
Step 7: Repot your plant of choice and add the moss pole
What you need to Make your Moss Pole
Ingredients or Materials and Tools
PVC coated hardware mesh 2 ft x 5 ft

Plastic Coated Wire Twist with Cutter

Tools:

Gloves

,

pair of scissors, pliers, wire cutters or pruning shears.
How to Use your Moss Pole
First, start by gauging how tall you need your moss pole to be. The moss pole should be taller than your plant's tallest vine in order to give it plenty of space to climb and attach itself to.

Once you've made or purchased your moss pole, start by soaking it in water until fully saturated. The moisture will help your plant to bind to the pole as it will encourage roots to strongly grip onto the moss pole.

Insert the wood end into the soil, positioning it so that the moss pole is as close to the center of the pot and base of the plant as possible. Make sure to take extra care not to damage the main root system of your plants when positioning the moss pole! This may kill your plant, so take your time.

Start wrapping the plant's vines around the pole. Secure with twine as you work your way around the pole. Pay extra attention to each node of the plant (where the leaves meet the stem) as this is where adventitious roots will form; try to make sure that each node makes good contact with the moss pole.

That is all, now the fun part is waiting for your plants to blossom!
Caring for your Moss Pole Tips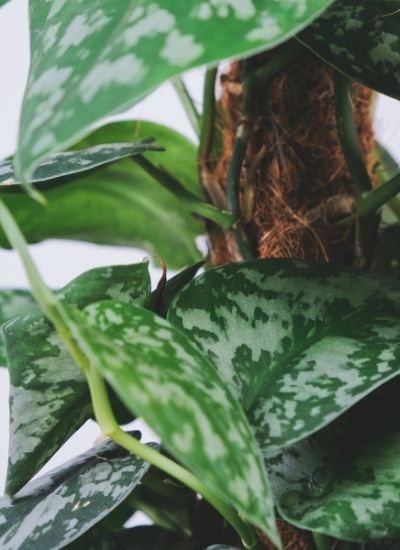 It is beneficial to spritz your moss pole often or to pour water down the pole when watering to ensure your plants' adventurous roots receive water. Most aroids will appreciate the extra humidity! 
In my garden, I often ensure a thorough watering of all the leaves, roots, and even the roots every so often to make sure my plants are absorbing all the water they need.
As your plant binds to the moss pole, you can remove the twine. Continue adding up the pole to continue training your plants growth. You will notice that the plant will grow much healthier and stronger with a moss pole.
When your plant has outgrown your moss pole you may extend it by binding a new one to the old one and repeating the process, or you can allow your plant to vine back down the moss pole to fill outgrowth.
When your plant has outgrown its pot, replant it with the same moss pole in the new container. Be very careful if ever removing a moss pole, as damaging the adventitious roots could cause issues with the plant's health.
Moss Pole Alternatives
Train plants to grow upwards and develop into a strong and healthy plant. These totem pole plant supports help creeping plants with aerial roots grow vertically towards the light, mimicking their natural environment.
Ready for immediate use each moss pole set comes with two pieces of string each 120cm in length. Easily tie up your plant with a natural, easy to remove and non-damaging material.
Plants cling easily to natural fibre because each stake is covered in coir which is a natural fibre extracted from the husk of coconut. Aerial roots can easily penetrate this sustainable and organic material.
You can even use this to build your plant's  pole as it grows. When a plant has outgrown poles simply add extension on to create a longer climbing stick. No need to upset the potted plant by replacing the post.
This product provides support to a variety of plants.  These poles are essential for climbing plants and vines which need extra support when growing in pots and containers. 
These indoor plant poles are suited for Monstera, Pothos, Money Plants and more.
When you purchase this product you will receive four coir totem poles, each about 16.5 inches long, you can choose whether use it as four separated coconut palm sticks or to connect several coconut palm sticks together according to your desired length.In addition, we will offer you 100pcs bandages as free gifts.
The bottom of this coir totem pole is pointed for easy insertion into the soil, and the middle is hollow. If you feel that the length of one coir totem pole cannot meet your needs, you can insert the second tip into the top of the first to extend the length.
Easy installation for simple and quick usage. What you only need to do is to insert the tip of this coconut palm stick deep into the soil so that it can be fixed vertically in the soil. You can rest assured to use it, your plants will climb up on their own, and you do not need to do anything more.
This coir totem pole is very suitable for all kinds of climbing plants. It can be used not only indoors but also outdoors. Lianas such as creepers can be entwined to grow upward.
Quality materials are used to ensure a withstanding product for users. 
This coir totem pole is made from 100% natural coconut shell so that it is very hard and wear-resistant. Besides, it is environmentally friendly and can be used for a long time.
Easily train your plant to grow upwards. The Totem Monkey Coir Totem Poles provide sturdy vertical support to climbing house plants. Potted climbing plants and vines need additional support when growing indoors. Monstera, philodendron, pothos, money plants and other indoor plants will benefit from being exposed to more natural light similar to their natural environment.
This is a new extendable design which provides for easy usage for when your plant outgrows its pole. The individual 15.7 inch long sticks made out of dense coco fiber allow aerial roots to attach and at the same time provide support due to a strengthened PVC inner shell. The extendable design enables the use of a secondary pole in order to increase the original pole's height to a total of 26.4 inch providing reinforcement as your plant grows taller.
This design provides a fast and easy installation for gardeners. Help your plant to grow taller by following 4 simple steps: 1) Insert wood stake into soil close to the plant's stem, 2) Secure plant to stick using the included paper twist ties, 3) Watch your plant as it grows taller and happier, and 4) Use secondary pole to extend the original pole's height if required.
With high quality materials that ensure a sturdy support for plants to grow upwards. The coconut fiber and its aesthetics allows the poles to blend with your plant and enhance your personal indoor jungle. The sharpened wood stake enables you to easily insert the pole into the soil. The included 20 pre-cut paper twist ties enhance the support by keeping the stem secured to the totem pole.
This company is dedicated to providing the best products to their plant-loving customers. Their mission is to offer the best plant care-taking solution by continuously ensuring that the Totem Monkey Coir Totem Poles meet the highest quality standards. 
If you are not 100% satisfied with your purchase you will receive a full refund or a replacement item, no questions asked.
Moss Pole Frequently Asked Questions
Does my Monstera need a moss pole?
Monstera is a vining plant from the rainforests of Mexico and Central America that makes use of aerial roots to climb up and through the branches of trees in its native habitat. In the home, maturing plants will need the support of a moss-covered pole that they can climb.
Providing your Monstera with a moss pole will allow your plant to grow with more stability and this will allow the plant to thrive better. It is common that Monstera plants grow healthier with a moss pole as their leaves will be bigger and their stems will be stronger.
A Monstera moss pole can be extremely beneficial for your plant that loves to cling. This is because a moss pole monstera will provide the support your plant originally needs.
What is a moss pole?
A moss pole is usually a stick of pipe that is covered up in moss or coconut husk. This is usually placed in the middle of the pot as a stand for climbing or vine-type plants to grow onto.
What can I use instead of a moss pole?
Here is a moss pole alternative if you don't have one. A tree slab or a natural bamboo trellis is the perfect alternative for your moss pole. The outer portion of a tree slab, of a live edge wood, would be an ideal choice to replace your moss pole. This tree slab will mimic the natural habitat of your trailing vines as if they are growing on a tree trunk. Apart from this, a natural bamboo trellis can also be a nice alternative to your moss poles.
Why do you use a moss pole?
A moss pole is usually needed for climbing or vine plants because it provides the support these plants need which they originally have in the wild. These plants usually need a bigger tree or rock to provide its support. 
Therefore, providing your plant with a moss pole will allow it to have a similar replica of its natural environment. This will ensure that your plant has all the right conditions to grow in abundance.
Does a moss pole need to be wet?
It will not be wet all the time as during hot days the entire pole may dry up completely. However, we do recommend watering the plant thoroughly by also drenching the moss pole or even using a water spray to ensure the pole is moist.
This will allow the roots of the plants to be watered and to encourage deeper root growth.
Conclusion
To summarise, a moss pole is indeed an important tool in the garden, especially for climbing plants that require support.
From my own experience, I noticed that the plant's leaves grow much bigger with a moss pole in comparison to without. Although the plant may grow well without a moss pole it will not be as luscious and healthy as it can be.
This means that even though the plant grows well the size of leaves will be smaller and oftentimes there may be fewer leaves and a weaker stem. Personally, I often play around with having a moss pole for some plants, and for some I allow them to just hang down a pot without a stick.
This is really a personal preference, for example, pothos can grow in a hanging pot or also creep up a moss pole. Some gardeners may prefer the smaller leaves in a pot instead of bigger leaves on a moss pole.

So the choice is really yours! You can even explore both options and decide which you prefer!
In truth you don't NEED one, however, it will make your plants extremely happy, help them to grow and look great. One would assume that if you have houseplants it is likely for the look and aesthetics of them. So ask yourself, what would look better, a plant that is thriving in what is closest to their natural habitat, or one which can't even hold up the weight of its own leaves, is sagging and sad? 
Additionally, if plants grow too big without the required support, they can fall over, have stems snap, stop growing altogether, and possibly begin to decline and die. So you don't NEED a moss pole but possibly your plants really do.
Using a moss pole will be the best option for your plant as you will be providing it a similar natural environment to grow in which always means that your plant has the highest potential to grow to its fullest heights.
Maybe adding a moss pole to your garden will change your gardening game to a whole new level so why not give it a chance. You even have alternatives and DIY options if you don't feel like spending on a new gardening product.
Have fun exploring the possibilities of using a moss pole for your green babies at home!
Enjoyed this? You will love reading: